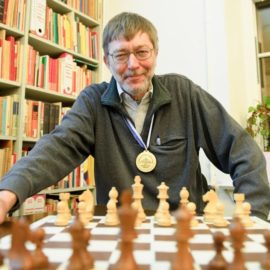 December 1, 2017
Jens Kristiansen
From: Denmark
Grandmaster | 2380
Jens Kristiansen, born 25/5-1952,  is an experienced Danish chess grandmaster who is currently rated at 2415. (December 2017)
Jens obtained the title of International Master in 1979 and then the title of Grand Master in 2012.
He has won the Danish chess championship for individuals in 1979, 1982 and in 1995. In addition to this he has won the World Seniors Chess Championship in 2012 and finishing as runners up in 2013.
Jens has also represented Denmark at the Chess Olympiad on four occasions between 1978 and 1990.