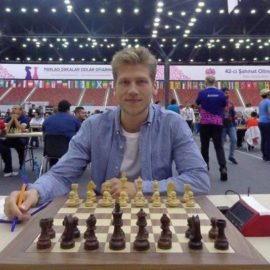 January 13, 2018
Helgi Dam Ziska
From: Faroe Islands
Grandmaster | 2549
Helgi Dam Ziska is the biggest name in Faroese chess and is also the only Faroese chess Grandmaster. Helgi became a International master in 2007 and has since steadily progressed and became Grandmaster in 2017.
Helgi has been the highest rated Faroese chess player since he was 16 years old and has also represented Faroe Island at the Chess Olympiad since 2006.
Helgi has won the Faroese Chess Championship three times. In 2008, 2011 and 2017. In addition to this he has won the Faroese Blitz Chess Championship on 13 occasions.
In 2013 Helgi was the runner up in the Danish Chess Championship finishing with 6/9.
Helgi earned the right to participate in the Chess World Cup 2017 through the 2nd European Small Nations Individual Chess Championship in 2016. Helgi won the tournament with 9,5/11.